COMING TO CAMP:
Arrival:  campers should be on site at 8:55 am at the outdoor tennis courts , weather permitting. 
Departure:  campers will be at outdoor tennis courts for pick-up, weather permitting.
CAMP WILL PROCEED RAIN OR SHINE!
If raining at arrival or departure, go to the Gordon Field House located on campus.
Campus address is
101 St. Theresa Ave
West Roxbury, MA 02132
The Gordon Field house can be accessed off Centre Street or the main entrance off St. Theresa Ave.
WHAT TO BRING:
tennis racquet*

water bottle with water

hat

sunscreen

snacks
lunch
*About racquet size:
Age 3-5: 19-21-inch racquets
Age 6-8: 21-23-inch racquets
Age 8-10: 25-26-inch racquets
Age 11 and up: 26-27-inch racquets
Please note: If your child is significantly bigger or smaller than most of their friends, they might be more comfortable using the next racquet size up or down.
TYPICAL CAMP DAY:
On the first day of camp, the coaches will determine what groups the children will be placed into based on age and ability.
8:00am   Arrival at tennis courts for early drop off
8:55am   Meet at the tennis courts, warm up, stretch, morning demo, stroke analysis and court assignments
9:20am  Instruction, drills, and technique development
10:45am  Morning break with snack (CHILDREN NEED TO BRING THEIR OWN SNACK UNTIL FURTHER NOTICE)
11:15am  Back to the courts for fun based games to reinforce newly learned skills.
Game based play uses skills learned, rolled into a fun competitive game that makes tennis more fun while they continue to learn the basic fundamentals.
12:00 pm Departure for morning campers
12:15-1:00pm Lunch court side or at Gordon Field House if raining
1:15-2:55 pm Back to the courts for strategy sessions, match play against local tennis clubs and competitive play.
*Mondays are match days with the Charles River Golf and Tennis club. Longwood Cricket Club matches TBD.*
2:55 pm  Afternoon wrap-up
3:00 pm Departure for daily campers
MATCH PLAY
During the summer we offer match/league play against local tennis clubs, country clubs and tennis camps.  There are typically 2 matches per week against the following organizations:
Longwood Cricket Club
Woodland Country Club
Charles River Country Club
Needham Pool & Racquet Club
Wellesley Country Club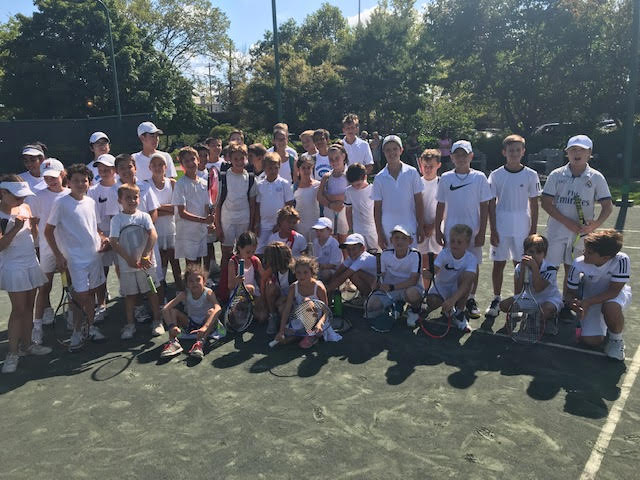 Details about match play and why we do it:
The kids LOVE match play.
Kids need to dress in white clothing (they look great and they feel really good about themselves playing and this helps to develop a love for the game).
Matchplay is also a key piece to developing your tennis game in terms of skill and mental toughness.
Matchplay also helps the children develop different skills and play on different court surfaces.  The children will play on clay, grass and hard courts.  The children learn to adjust their gameplay based on the court surface they are playing on.
We encourage parents to help drive the children to away matches and also to come view the matches that are at home or away. This is another key piece to match play.  The kids like parents, teammates and coaches watching them.